Kohout Motivates Students at Southern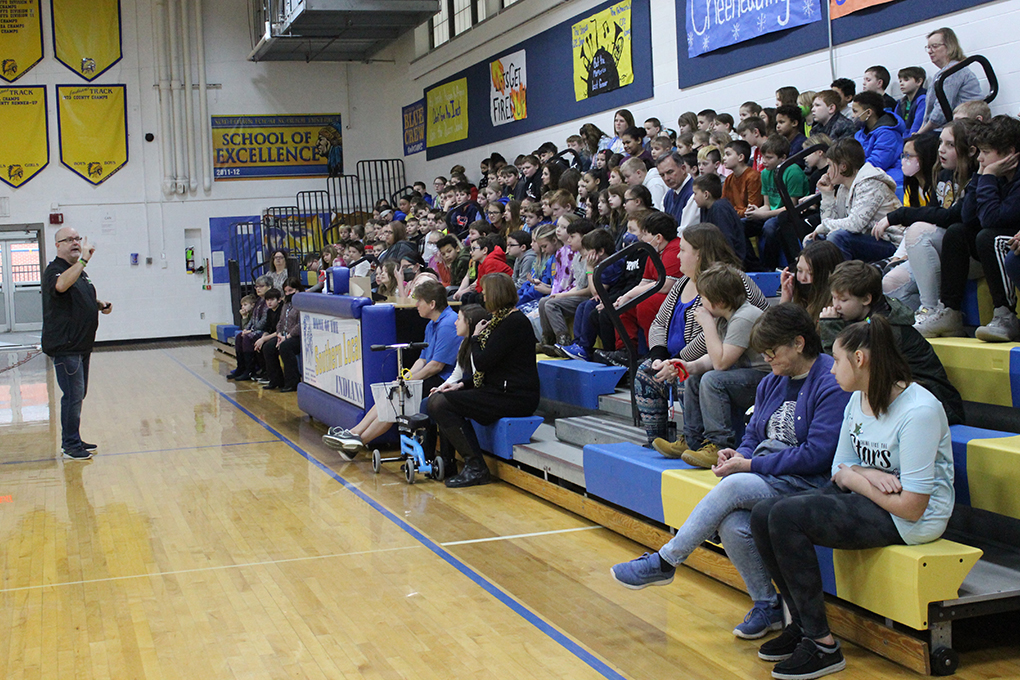 ---
Kohout Motivates Students at Southern
SALINEVILLE-Motivational speaker David Kohout kept it real with students at Southern Local Schools, telling them how the consequences of their actions could impact their lives.
Kohout, executive director of the Talk Is Cheap organization, led sessions with grades 3-6 and 7-12 throughout the day on Feb. 17 to discuss character building and instilling hope and met with FFA students in their classroom for an extra pep talk. Kohout, of Youngstown, said nothing is promised in life and nothing is guaranteed, but making good choices keeps people on the right path.
"I am standing in the presence of greatness, but you need to believe it," he said to the crowd. "You are going to make mistakes in life. You will treat people poorly and think you shouldn't have done that. My job is to get you to start thinking now."
He described three types of bullying as verbal, social (online) and physical and said bullies primarily seek attention or are insecure, angry and hurt. Kohout told students to "step up and be a leader, not a follower" and encouraged them to be compassionate and kind. He presented on the life of singer Elton John, who chose his path the moment his mother presented him with a piano. With the tap of a few keys, his destiny was set. Despite being mocked for his eccentric style and being different, he became one of the most well-known entertainers of all time.
"Not everybody's going to be the most famous person in the world, just do your part," Kohout commented. "Choices equal consequences. You are either part of the problem or part of the solution. If everybody would do just one thing to help somebody else, wouldn't it be a better world?"
Kohout's message was peppered with more videos of people told they did not have the talent or skill to succeed, but they went on to become The Beatles, basketball great Michael Jordan and President Abraham Lincoln to inventor Thomas Edison. The power was believing in themselves and striving to work harder. Kohout said life wasn't perfect or easy, but the lesson was not to quit.
"They all had failures but they had the attitude to keep taking risks," he added, noting that he himself graduated high school with a 1.68 grade point average and held no college degree, but he has since spoken to a half-million kids in six countries. "If you haven't failed, you haven't lived. You need to have faith and believe in something bigger than yourself."
He explained that he made personal changes after high school including becoming more spiritual, and he attended church and made better choices for himself. Kohout said the key is simply to believe.
"Don't tell me you're too young. Don't tell me you are too poor. Ordinary people really do extraordinary things," he said, showing more videos of Helen Keller, a girl who was blind and deaf but became an author and political activist; pilot Chuck Yeager, who broke the sound barrier; and musician and activist John Lennon.
Kohout even recalled his own experiences of meeting people who said he influenced them in a positive way.
"I met with a man who graduated in 2019 and said I'd changed his life," he added as he encouraged students to change their own attitudes for the better. "When you go home, I want you to look in the mirror and say, 'I like me.' Your attitude is going to control your future. Do you want to make it in life? What you put in it is what you get out."
He closed with the story of a young man named Chris was diagnosed with two forms of cancer and ultimately died at age 17. Chris wanted to be remembered and has now been gone for two decades, and Kohout continues to share his story.
Kohout also shared copies of his book, "Standing in the Presence of Greatness" plus small green pebbles he asked students to take as small reminders of hope. More information about his program is available at www.sitpog.com.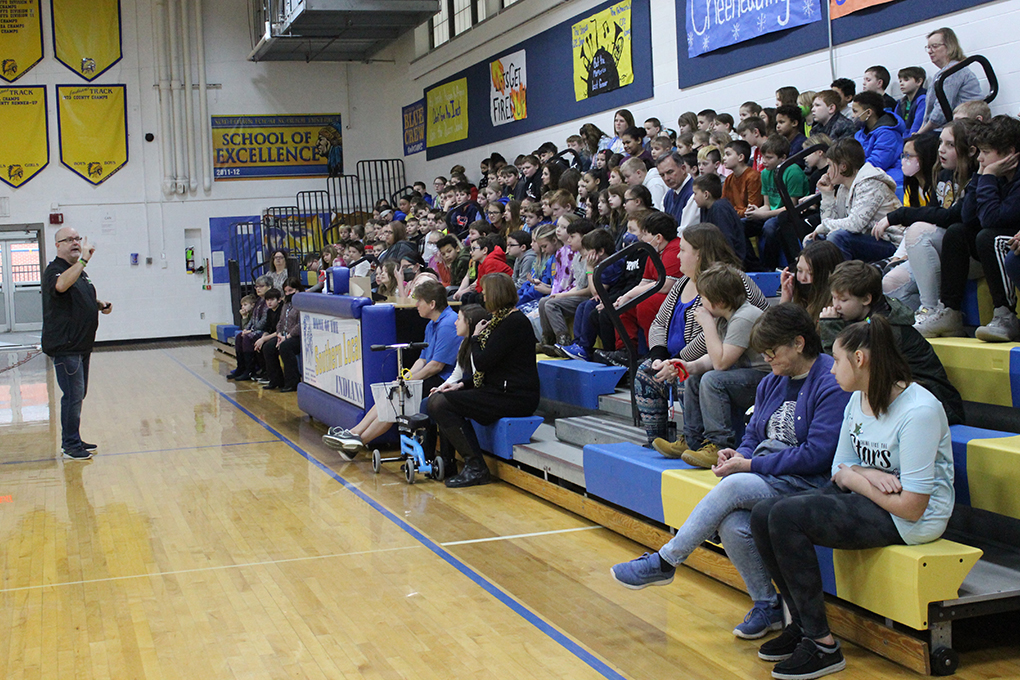 Youngstown-based motivational speaker David Kohout spoke to Southern Local students on Feb. 17 about making positive decisions and not giving up on their dreams. Kohout said life may not be easy but the youth should never give up hope.