Morris Bids Farewell to School Board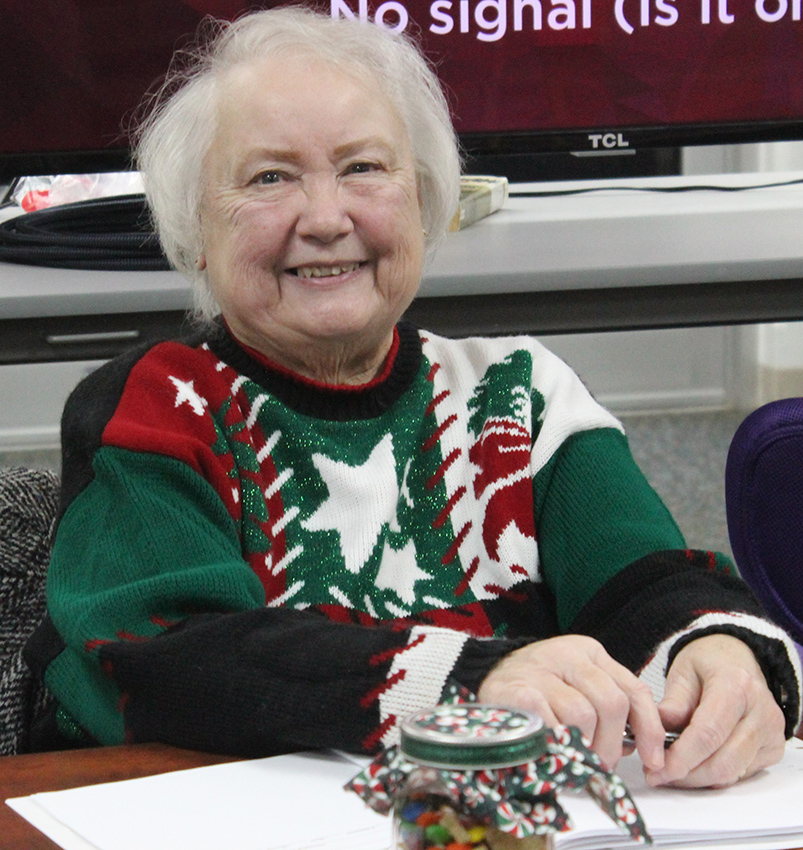 ---
Morris Bids Farewell to School Board
SALINEVILLE- The Southern Local School Board of Education bid farewell to longtime member Linda Morris, who attended her final meeting on Dec. 14.
Morris concluded 26 years with the board after being narrowly surpassed by fellow board member John Sawyer during a recent election recount. She looked back fondly on her time, saying she has witnessed the district transition from the consolidation of schools to one complex as well as the evolution to modern technology. She noted that her most challenging time was ensuring students were served and schools remained open through the COVID-19 pandemic.
"I've really enjoyed being on the board," she said. "It's been a privilege."
Superintendent Tom Cunningham thanked her for her years of service and all she has done for the district. Karl Blissenbach, who most recently served on the Utica Shale Academy board, will assume a spot with SLBOE in January.
Meanwhile, leaders discussed plans for the new year including the addition of a new school resource officer and programs aimed at student well-being. Cunningham said Columbiana County Sheriff's Deputy Jeffrey Haugh would begin duties in January after the district and sheriff's office approved a contract to provide the added security. The district finalized matters during the November school board session.
"The SRO will start with us on Jan. 3," he said. "He'll be a great addition to the district. He's excited and we're excited to have him back."
Southern Local High School Assistant Principal Adam Loudin said the school has been handling student matters and hoped to see programs in place soon.
"Our administrative and counseling teams sat with ADAPT," he said. "We've had a lot of issues with vaping at the junior and senior high. For any student caught vaping, we'll look at substance abuse counseling. We've also had a number of students self-harming and are doing what we can to reach the whole child. We are trying to meet all of their needs."
Cunningham interjected that programs would be held for character development, self-esteem and drug addiction and teachers will work with the Jefferson County Educational Service Center on programs in the classroom, plus he mentioned sessions on bullying and suicide prevention.
The superintendent further commented on projects for the school building and said architectural plans were being completed for an auditorium while more work was eyed later this year for a new boiler system and roofing.
In other matters, the board:
--Learned the new school sign should be installed in January;

--Heard from SLES Principal Rich Wright, who said the school was preparing for the holidays and the coat and toy drives were underway. He added that the first round of teacher evaluations were also completed under the OTES 2.0 system;
--Heard from Loudin, who said Emily Flannery and Cameron White were respectively Kiwanis Students of the Month for November and December while Kiah Sloan and Andrea Rodgers were the junior and senior high students of the month. Additionally, school secretary Lynn Beadnell, who is employee of the month, was retiring on Dec. 31;
--Approved Lacey Locke and Lisa Pitts as three-hour cafeteria monitors at Southern Local Elementary;
--Rescinded Chris Lewis as volunteer assistant girls' basketball coach and named him varsity girls' assistant coach with Jayce Sloan as freshman boys' basketball coach for the 2021-22 school year;
--Approved Kelsey Shreve as a tutor;
--Approved a contract for welding uniforms for Utica Shale Academy;
--Approved Security Framework policies;
--Heard a request about utilizing Your Sports Network to livestream high school games online, which has contracts with other schools in the county. Cunningham offered to review the matter.
--Held an executive session, after which they approved a $1,000 stipend for employees since they have gone the extra mile during the pandemic from sanitizing school property to ensuring students adapted to technological learning;
--Passed a previously tabled motion to contract with Laura Krulik, Mike Skrinjar and Carter Hill respectively for special education supervision, special education services and as dean of students for the Utica Shale Academy;
--Set the next regular meeting for Jan. 11 at 6:30 p.m. to be precluded by the organizational, public records and tax meetings at 6 p.m. at the high school.