School, Community Help Save Lives at Blood Drive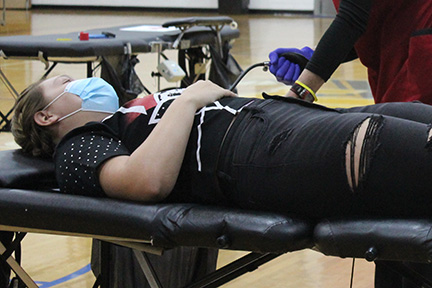 ---
School and community members stepped up and gave of themselves as Southern Local High School hosted a blood drive on March 31.
Sponsored by the school's National Honor Society, roughly 40 people rolled up their sleeves and donated to the American Red Cross in the SLHS gym. NHS Advisor Jody Lockhart said 38 pints were collected at the conclusion and she was pleased with the turnout after COVID-19 restrictions shelved the organization's previous events.
"We got a lot of community members. I think it was because we had a flyer at the medical facility in Salineville and people have been going in for their COVID shots," Lockhart said. "We had 47 signed up but expected some cancelations. There were teachers, administrators and students as well."
She added that the district notified the public through flyers, emails, phone calls and media and those efforts definitely made a difference. Lockhart also expressed a special thank you to community members who heeded the call to help save a life. The student organization has sponsored several events each year and collected more than 30 pints, making graduating seniors eligible to receive a Red Cross scholarship. Lockhart said three drives were initially scheduled but halted due to health restrictions.
"We had events scheduled in September and December and canceled both, then we canceled in February. After we got our first vaccine, we considered holding a blood drive again and we did our best to make it COVID compliant," she continued.
It was safety first as both the school and Red Cross followed stringent guidelines. Donations were by appointment only with no-walk-ins accepted, plus temperature scans and thermometers, social distancing and frequent sanitizing were used and pre-packaged food items were available in the canteen. Red Cross nurses also tested donors prior to collecting blood to ensure the supply was healthy and useable.
But for those who volunteered to donate blood, it was simply a way to give to others.
"I've donated once before," said senior Garrett Brewer. "I wanted to try to help."
Teacher Kyler Woodward was another repeat donor, saying he has contributed over the past few years.
"I've donated twice before and have done the double [red cell donation, or Power Red]," Woodward commented. "I've been doing this for at least three or four years. Mrs. Lockhart asked me to do it again and I usually sign up when there's a spot open."
Senior Katelynn Exline also understands the importance of donating since she works as a certified nurse's aide.
"I've donated once before. I work in the medical field and I know how much blood is needed," she said. Exline recommended that others donate in the future.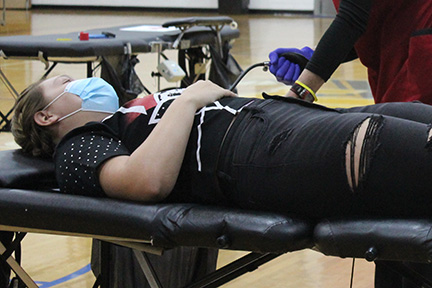 Southern Local High School senior Katelynn Exline rolled up her sleeve during a blood drive sponsored by the SLHS National Honor Society and American Red Cross. About 38 units were collected throughout the day and strict COVID guidelines were practiced to ensure donations were made safely.