SLES Develops Robotics Teams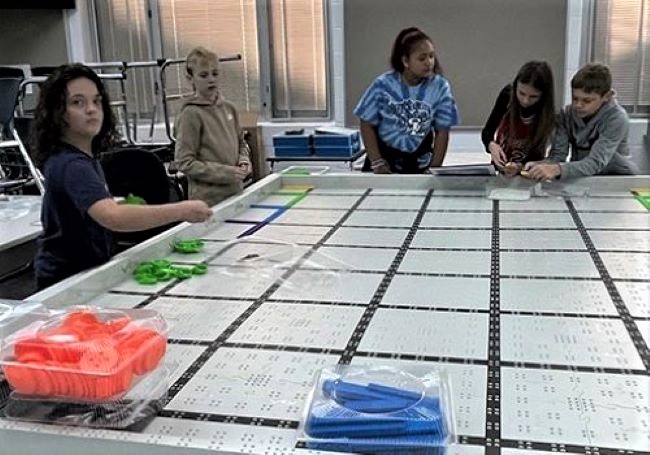 ---
SLES Develops Robotics Teams
SALINEVILLE-Southern Local Elementary fourth- and fifth-graders are putting their coding and math skills to use with the start of robotics teams at the school.
Teachers Karen Marquis and Janice Pierce recently began the program, which has 16 members on teams of four students, and they have been building their robots to participate in competitions. Marquis, who instructs fifth-grade math and science, said it was a fun learning experience for the youth.
"We're involved with VEX IQ's Slapshot Competition," she said. "We received a kit to build robots and this is for grades 4-8. There is a field where kids will play with their robots, like an air hockey game, and there are four buildings with four disks. They use their robots to knock out the disks and collect them, and then they get points for every disk that has fallen into the field or infield."
Marquis said there were three segments of the competition, with one utilizing robotic arms that can earn one to four points for each disk with extra points in another segment if they develop a robotic arm that stretches across the grid and obtains more disks. The second provides a free-range obstacle field to maneuver the robot through for additional points while the third is autonomous and the robot is programmed to run on its own through a set path.
Pierce coaches fourth-graders Nate Forbes, Brooklyn Glosser, Brooke Akers, Liam Potts, Grant Utt, Layne Weston, Sylas Compton and Serenity Wallace while Marquis oversees fifth-graders Jaymen Maines, McKenzie Sloan, Maddie Smith, Addisyn Boyle, Liam Sosack, Keithan Smith, Aubree Taylor and Isiah Plunkett. The teams will meet during the teacher's planning periods and held a kickoff day featuring Jeff Gill of the Columbiana County Educational Service Center, who discussed coding with the students. The group has been busy assembling their creations for contests, the first of which is a county-wide competition in December.
The program has attracted immense interest among students but only a limited number were selected based on certain criteria. Marquis said members were selected for their ability to participate and keep up with the math and coding involved in the program.
"Next year, we may let kids apply, but we had to limit it this time because we would only have four on a team. The kids in the program work with a robot and code for it," she continued. "The fourth-grade classes do the dot-and-dash coding while everybody's going to be doing robotics in the fifth-grade."
Pierce praised the students for their hard work and ingenuity, saying they were eager to get started.
"I think they did a fantastic job. They assembled the base of the robots and wanted to participate and build stations. I think we made really good choices on the students because they really have a knack for engineering."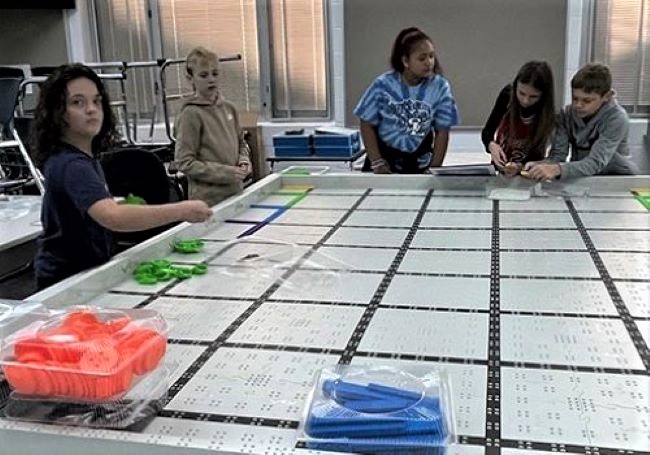 Southern Local Elementary now has fourth- and fifth-grade robotics teams who have built their own projects and plan to enter VEX IQ competitions, including a county-wide event set for December. Pictured are, from left, Liam Sosack, Isiah Plunkett, Aubree Taylor, Addisyn Boyle and Jaymen Maines.