SL Back to School Bash a Crowd Pleaser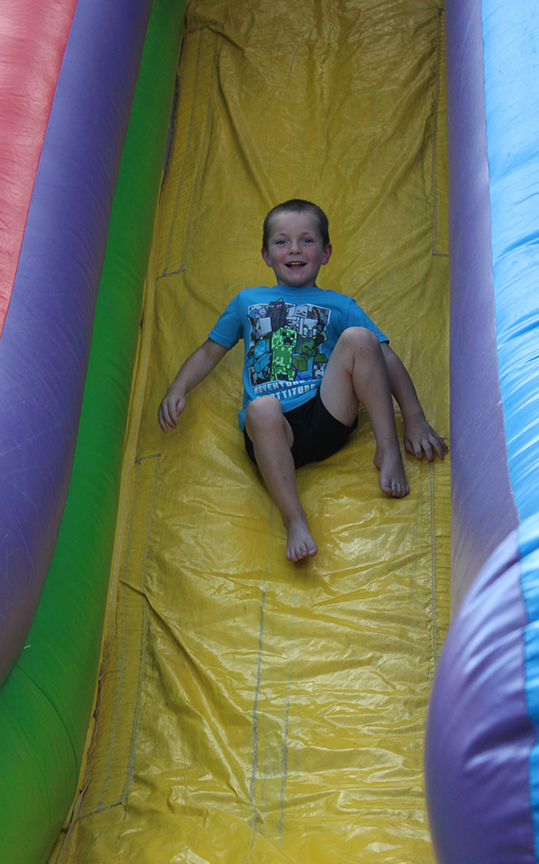 ---
SL Back to School Bash a Crowd Pleaser
SALINEVILLE-The Southern Local School District ushered in another year with the annual Back To School Bash on Aug. 18.
Students and parents joined faculty, staff and administration for fun, food and free stuff on the campus as school and community organizations distributed free information, school supplies and held activities just before the first day of class on Aug. 22.
District Special Education Coordinator Laura Krulik, who organized the bash, said the decade-old activity has always been a crowd pleaser. The bash was temporarily placed on hold due to the COVID pandemic but made a formal return last year.
Krulik noted that about 1,000 people attended and about two-dozen vendors were on hand providing food, supplies, toiletries, activities and information.
"I received lots of good feedback from the community agencies that attended," she said. "Students get oriented with the school and staff and have a good time before school starts, plus they get some free supplies and goodies.
She said while the number of attendants was similar to previous years, the number of vendors had gone up.
"This is probably the most we've had at the Back To School Bash," she said. "The Community Action Agency sent something from every agency they have."
Kids enjoyed jumping and sliding on inflatable activities while school nurse Heidi McIntosh and staff members provided free hygiene products. The district did not purchase school supplies this year but some were donated by Dollar General, Jim and Carolyn Thorne and school librarian Donna Hart.
"Southern Local purchased T-shirts because we have school spirit weeks with tie dye or neon shirts and all of the kids will have a shirt to participate," Krulik added, and students got the opportunity as Southern celebrated spirit week on Aug. 22-26. "We wanted to give something different."
Sixth-graders also took part in a brief orientation in the Southern Local High School cafeteria while elementary through high school students had a chance to meet their teachers and tour the buildings. However, Southern Local Elementary is planning its own open house next month. Vendors stretched around the exterior of the building and gave away free school supplies, hygiene products and information as well as hot dogs and other treats.
Krulik said The Brightside Project and Senior Support Action Group were some of the newest participants and other organizations included Southern Local, Little Indians, Utica Shale Academy, the Salineville Assembly of God, Columbiana County Mental Health and Recovery Services Board, Education Alternatives, Corporation for Ohio Appalachian Development, Columbiana County Emergency Management Agency, Community Action Agency of Columbiana County (CAACC) Health Center, CAACC Behavioral Health Center, CAACC Dental Center, CAACC Mobility Manager, Columbiana County HeadStart, Family Recovery Center, Columbiana County Board of Developmental Disabilities/PACT, Foster Parent Recruiter/Liaison for Columbiana County Department of Job and Family Services, Columbiana County Educational Service Center Family and Children First Council/CASH Coalition, Opportunities for Ohioans with Disabilities, Connectivity Champions, Salineville Church of Christ, Mahoning and Columbiana Training Association, the Southern Local High School Junior Class while DJ Chelsea Householder provided music for the event. Raffles and other prizes were also offered to celebrate the start of the school year.
SLHS Principal Rich Wright said the event was a great way to welcome everyone back.
"We're excited and this has always been a big event. This and the District Showcase are huge for the district," Wright added. "We have Meet the Indians so we can have a pre-school pep rally and appreciate the athletes' work over the summer."
SLES Principal Emily Brinker concurred.
"We get to see the kids, give out information and get ready for school," Brinker said.
Even some of the attendants said they enjoyed the day.
"The whole school district is great and is always active with the kids," said mom Brittany Crow.
"I love it," said parent Susan Fisher. "I love everything."
Emma Fisher, 8, also liked the event and said she was ready to enter third-grade at SLES.
Superintendent Tom Cunningham praised organizers and said the bash was a wonderful way to bring everyone together.
"It's a fantastic job by the staff and there is great community support from the businesses and organizations down to the students and their families," he noted.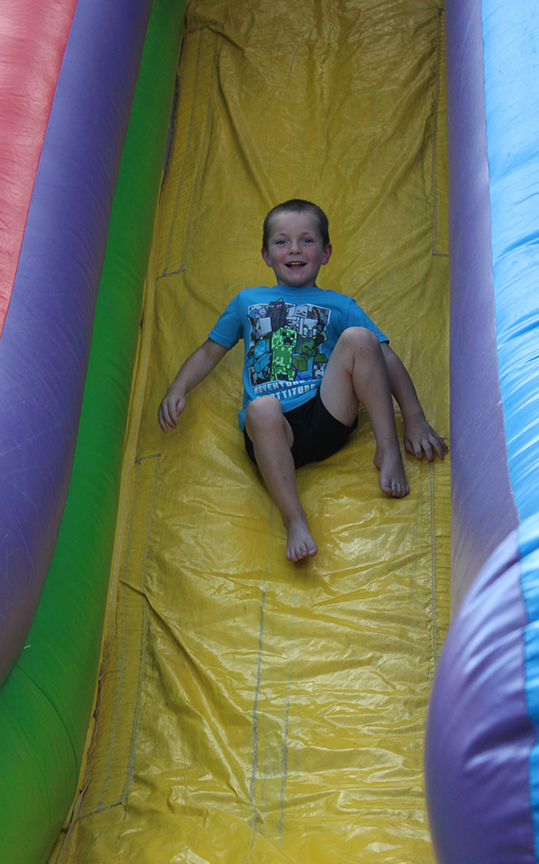 Jaxon Crow, 5, son of Andrew and Brittany Crow of Salineville and a kindergartener at Southern Local Elementary, takes the plunge on an inflatable slide during Southern's Back To School Bash on Aug. 18. About 1,000 people turned out for food, fun and free stuff to kick off the new school year that started on Monday.